Petals for Your Aisle
When decorating for a wedding, aisles typically take more rose petals than everywhere else combined.  It can also be difficult to determine just how many petals you need to achieve the look you imagine.  Fortunately, our experience can help make this task easy for you since we have literally helped calculate the quantity of petals need for thousands of aisles.
The first things you need to know are where the aisle will be located and it's dimensions.  If it's on grass, you should be using the freeze dried rose petals since they are biodegradable.  We've seen what happens when silk is used, you don't want to spend your day picking thousands of petals out of the grass one by one.  You also need to know if guests will be able to reach their seats from the outside aisles.  You'll be emotional enough walking down the aisle, you don't need to be upset to see that the guests trampled your perfectly laid pattern of petals.  Once you've measured out the area, it's time to decide how you want it to look.
The quantity of petals used for aisle designs can vary greatly.  Are you looking to create a border, or fill the entire aisle?  Do you want a sprinkling of petals, or to completely cover the ground below?  Traditionally, rose petals are either evenly sprinkled down the entire aisle, or are used to create a border along both sides.  A recent trend, however, is to create a scrolling pattern of petals.  With any of these designs, brides are forgoing the traditional fabric aisle runner as the petals create the pathway.  Just be sure to choose colors that provide enough contrast with the ground below.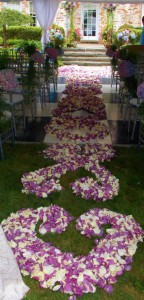 Your budget will play an important part, so once you have a basic idea of the design, you should then calculate the quantity needed.  The easiest way to figure out how many petals you need is to use our online rose petals calculator.  You'll need the aisle length, coverage type, and design layout that you determined above, just enter them in and you'll get the recommend quantity of petals in either freeze dried or silk.  Another way to calculate the quantity is to get a smaller amount to test, create a mock-up of your design, then calculate exactly how many you need.  This is especially helpful if you're planning to use a large quantity or have an intricate design.
Now that you know the quantity, in future posts, we will explain in detail how to create some of the aisle designs you've seen in photos.