Okay, so you didn't win on Wedding Vibe...
but you're a winner in our book!
We have a special discount available to brides from Wedding Vibe, simply use the appropriate discount code listed below on checkout. If you're not sure what you need yet, you can start by getting SAMPLES now!
Having an outdoor wedding? Our REAL freeze dried rose petals are preferred by venues as they are all-natural and completely biodegradable. Carefully pulled from the highest quality South American roses, our petals are the largest, most beautiful ones you will find.
Use code WVF719 for:
5% Off your Freeze Dried Rose Petals
The code expires 12/2/19, but you simply need to place your order by then. We will schedule an appropriate shipping date based on the event date you enter at checkout. That way, you get the best quality possible on your wedding day. You can even order samples if you would like to see the petals prior to ordering. Since we freeze dry year-round, you will find our petals to be the best color and the "freshest" freeze dried.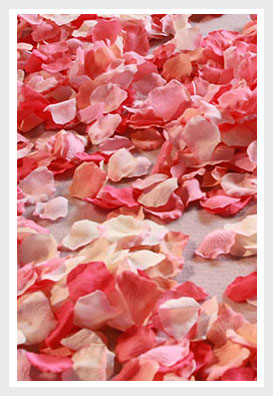 Our Silk Rose Petals are high quality petals at an affordable price. Our huge selection of over 100 colors means you can find the perfect match to your decor.
Use code WVS719 for:
CHOOSE FROM EITHER:
20% Off 100 count bags, or
10% Off 1000 count value packs.
Be sure to enter to code above for the discount to apply. Hurry, coupon expires 12/2/19.
Not sure which petals you'd like to use, or need help deciding on colors? Order SAMPLES here.