Rose Petals for Weddings
Are you planning your special day? A wedding wouldn't be complete without rose petals. From the traditional flower girl sprinkling petals down the aisle to a pathway of petals leading to an intimate beach venue, we have just what you need to make it unforgettable.
Specializing in rose petals since 1998, we've been helping brides like you make their wedding dreams come true, just click below to get started.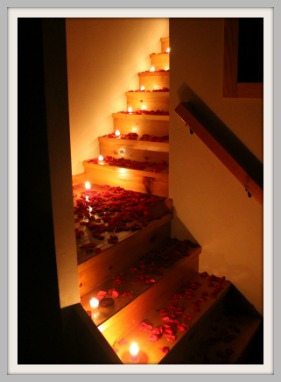 Romantic Rose Petals
We have everything you need to decorate for a romantic evening. In addition to our selection of freeze dried and silk rose petals, we have pre-made packages of rose petals and candles
We can ship the same day by 4:45pm ET, so go ahead, make plans now!
Looking for something unique? Try our heart shaped petals, or use our floating petals in a bathtub. Need more ideas? Check out our blog article for some creative decorations using rose petals.
Our Freeze Dried Rose Petals will add an elegant touch to your wedding. Instead of bird seed or bubbles, use freeze dried rose petals to toss when exiting the church.
They are a natural, biodegradable product, so clean up is easy. In addition, you can use them for flower girl baskets since they are much less likely to stain than fresh petals. Table decoration is another popular use, our petals make an excellent conversation piece.
When using the freeze dried rose petals for tossing, cones are a great way to distribute them to guests!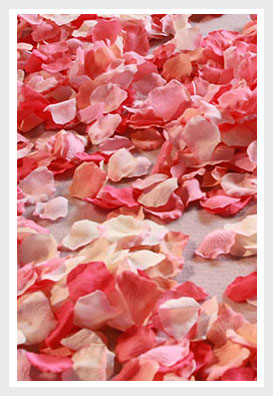 Our Silk Rose Petals are high quality petals at an excellent price. We have over 89 colors to choose from, many of which are not available in a real rose. All of our silk rose petals come in bags of 100 petals, giving you the flexibility to create your own color combinations.
We also have 35 of our most popular colors available in value packs of 1000 petals for your large volume needs. Whether you are buying in bags or packs, our petals are in stock and ready to ship.
Welcome, we're glad you found us! Please take a moment to browse our website, you'll be pleased to find we have the best selection of quality petals available. What sets us apart from all the other websites selling rose petals? For starters, we're not just a website. At our 7400 square foot building located in a corporate park, we do it all, from customer service and order processing, to freeze drying and warehousing. We are direct importers of silk rose petals, made to our specifications. What's more impressive, however, is our freeze drying process. We literally take thousands of real roses every week and turn them into beautiful freeze dried rose petals.
If you have questions, please contact us. Send an email and you'll receive a response from the president of the company. Give us a call and you'll speak with someone who handles petals all day long. We are experts in our field, in business since 1998. We don't sell a full assortment of wedding supplies, party favors, etc., we just focus on rose petals, along with organza bags to package them in. We do, however, have a great deal of experience assisting wedding decorators, so you can count on us to assist you in making your event special.
We just added several colors to our line of Artificial Rose Petals. These are great for a bride on a budget looking to cover large areas. We will also be expanding our line of freeze dried in the coming months.