Romance Package of 2500 A
rtificial

Rose Petals + candles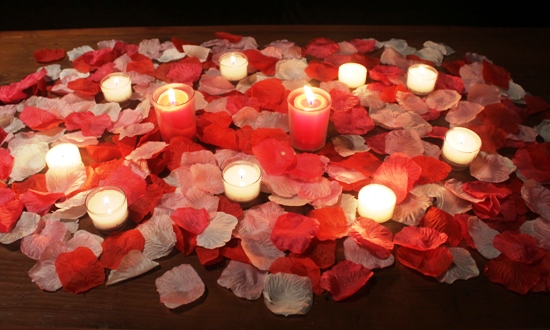 Our Romance packages packages contain our Artificial Rose Petals plus scented and unscented candles. It's everything you need to surprise that special someone.
Romance 2500 - Only $29.99
Contains 2,500 artificial rose petals in shades of red, pink, and white, 2 rose scented tealight candles (slightly smaller than above photo), and 10 unscented candles, enough to sprinkle petals on a bed and scatter around a candlelit room.
Recommended quantities:
Trail on a Floor Figure at least 50 petals per square foot, or 150 petals per linear foot
Heart on a Bed Around 500 petals for a heart outline on a queen bed, 1000 petals for a solid heart
In a Bathtub Use 200 of our Floating Silk Petals
Spell it with Petals Minimum 20 petals per letter, ideally use 50-100 petals per letter.
Other items to consider:
| | | |
| --- | --- | --- |
| Romance 1000 | Romance 1500 | Romance 2000 |